So what's the difference between wedding makeup and regular makeup?
Makeup is makeup, right?
You probably wear makeup every day to enhance your appearance!
Makeup artists who deal with bridal makeup daily come across such questions almost every day.
Bridal makeup is entirely different from the day to day makeup we do regularly.
We can achieve a polished looking result in regular makeup, and it will look good in real life – but will it photograph well?
Will it last more than 8 hours and still look fresh?
Do you want to wear the same makeup style that you wear to work or wear to a nightclub on your wedding day?
Most girls get ready every day by having a quick makeup routine, which they have adapted over the years that they like.  But what if an experienced artist can bring out your features even more?
A trained eye will quickly know what colours will suit your features and what techniques are needed.
They can be used to play up your best features and tone down the features you don't like, such as dark circles, nose shape, eye shape and jawline.
Let's Explain The Differences Between Bridal Makeup And Normal Makeup.
What is the difference between makeup that you would wear everyday makeup and wedding makeup?
Makeup for an event such as your wedding day requires extra time to execute the final look and select the best products for the final result.
Product selection is vital as makeup for a wedding needs to last for a minimum of 12 hours.
It also has to look beautiful in real life and also photograph well.
Why A Wedding Makeup Artist Is Needed For Bridal Makeup.
Every bride dreams of having beautiful makeup, flawless skin and a timeless look for her wedding.
She always has an image in her mind of how beautiful and elegant she should look on the most beautiful day of her life.
Brides will have created a look book or mood board for how she imagines she will look on the day.

In this framework,  she has selected things like her outfit, hairstyle, footwear and makeup.
To achieve her desired look, the makeup needs to be spot on with her overall style.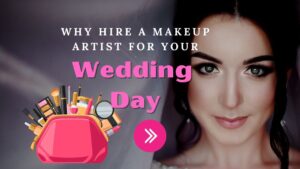 Beautiful Makeup Takes Time To Apply
Bridal makeup takes longer, and the makeup artist usually spends more time with the bride – you don't want to rush this process. Generally, the bride has decided on a particular look for her big day.
The finished look needs to accentuate her features and give the makeup look that she has selected.
Every bride is different in how they want to look and how they want their makeup experience, so the makeup artist often has to figure out the bride's vision.
Many brides will have a favourite celebrity whose makeup and style that they admire.
Some brides will want to emulate a celebrity look right down to want a smoky eye makeup look.
Natural Makeup Looks Are Not Natural

Many brides request a minimal makeup look, but they will produce a photo of a red carpet look.
A red carpet look requires a large number of products required and extra time to apply it. It takes even more skill to achieve a makeup look that looks minimal.

Many brides want a natural lip colour and natural-looking false lashes. (A good makeup artist should be able to attach the falsies so you cannot see the tape.
Or they may use individual lashes to give you the natural lash look that you want without the look of false eyelashes or strip lashes.
Because it is such a special day, the bride usually pays for a bridal consultation and a makeup trial. The artist will create a look based on what they have discussed.
(It is not uncommon for a bride to have some additional requests for her makeup on the day of the wedding).
Professional Makeup Brands

The makeup artist will usually apply a combination of professional and long-wearing products such as:
The foundation is matched to her skin tone and skin type.

Translucent powder

Setting spray

Waterproof mascara (for criers)

Long-wearing lipsticks or a lip stain instead of lipstick.

Eye shadow can be powder-based, or a cream shadow can add extra colour depth and durability.

Eyeliner can be a smudge-proof pencil, or a gel liner can be the best option if a bold lash and eye makeup look is required.
Eyebrows are a significant part of framing the face. A brow pencil will give a defined eyebrow, or a brow powder will give a little extra depth to eyebrows if they are already well-shaped and coloured.

Brides often fear blush; they think too much blush will make them look like a clown.  A true professional knows what colour and where to apply blush and bronzer to give the face warmth and depth.

HD makeup can be used to avoid flashbacks in pictures, but it must be applied correctly to achieve the perfect skin look in photos.

Many brides will purchase their lip products, or some artists will supply the bride with a lipstick or lip gloss that they recommend and sell.

You will need to have a lip product with you to touch up your lips, and so will your bridal party. Lipsticks always make a nice little gift that the bride can give to her bridesmaids on the day.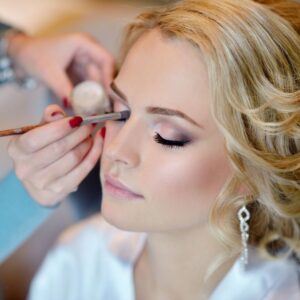 Professional Advice From Makeup Industry Experts

Sometimes a bride will want airbrush makeup. This is a specialised service, and skilled artists may charge extra for airbrush makeup. Bear in mind that airbrushing is not always the best result for some skin types and skin textures, so do not have your heart set on this application style if a professional makeup artist advises against it.
There are many tried and tested combinations that the artist has to learn by trial and error. The right combination of products will ensure that the bride glows and appears extraordinary. 
If a bride were to purchase all professional products and the right tools required, she would be out of pocket several hundred dollars. As well all know – quality makeup is expensive.
A makeup artist looks after their products, keeps them clean and sanitised. They also make sure that makeup in date – liquid and cream-based products do have expiry dates that should be kept track of.
Hiring A Makeup Artist For The day

Brides with bigger budgets secure their makeup artist at a daily rate and have them do the touch-ups. This is how celebrities always look immaculate. They have an artist standing by at events so that hair and makeup can be touched up or even totally reapplied.
If a bride has super oily skin, this can often be the only way to ensure that her makeup stays looking fresh. Remove the makeup on her skin and apply a new base.
The eye makeup will often look good and needs a little bit of a freshen up without reapplying the entire look.
Take The Stress out Of Your Wedding Day 

Hiring a professional service such as a mobile service for hair & makeup will stress not worrying about creating the perfect makeup look.
And also, consider hiring a mobile hairdresser or a hair & makeup team that are work together as a bridal team. They know what they are doing.
They have the makeup and skills that will give you a look that you are after.
If you want a glamorous bridal makeup or let you be a natural beauty, they can execute this fo you t
Using a mobile service will ensure that your timeline stays on time and you are not racing to a salon to have your hair & makeup done.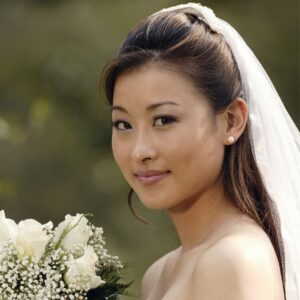 Fundamental Difference Between Bridal And Normal Makeup.

The primary difference is that you don't wear bridal makeup every day. It is exclusive, and you only wear it on your wedding day or special event. Everyday makeup you can wear every day, at work, at a party or anywhere else, just not on your wedding day.
Wedding makeup takes a lot of time, and the artist plans the design and carefully customises it in advance. The bride meets with the makeup artist days or months before the wedding day.
Some makeup artists will go the extra mile to try different looks and products to decide on the best fit. Every bride is different and will have something in mind before consulting her makeup requests with an artist.
Now it's all up to you… What do you want?
Do it yourself makeup OR Makeup by a professional
I hope these words of wisdom have bridal makeup is different from regular makeup are planning your wedding.. Start looking for the best hair and makeup team in your city now