Massive computer advances over the last several years have irreversibly altered many facets of our life, particularly the financial industry. The traditional methods of dealing with money, such as utilizing currency and ATMs, are gradually being phased out in favor of more accessible, decentralized alternatives. People increasingly keep their money on their phones through new-age technology rather than in real institutions and places.
Even though this resolution is still in its early phases, many individuals believe cryptocurrency and fintech will be the future of money. Every day, cryptocurrencies challenge conventional financial technology as they grow in number and strength, offering to become the future norm. In 2021, the future of cryptocurrencies became clearer and more widely embraced, and based on current trends, this trend is expected to continue for a long time.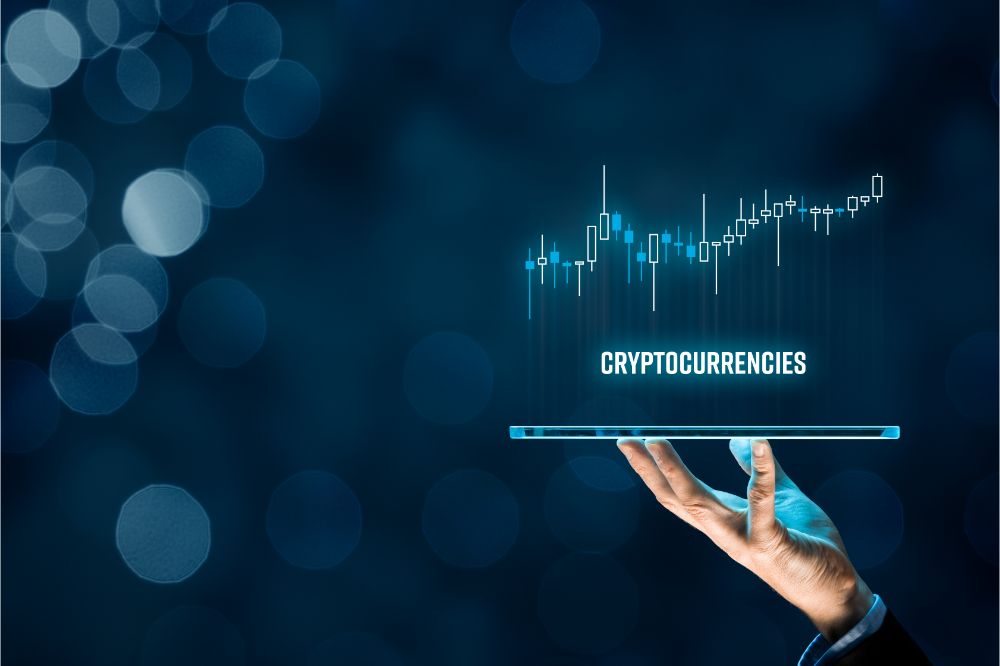 Cryptocurrency and the Blockchain
Cryptocurrencies are digital tokens protected and encrypted over a network based on groundbreaking blockchain technology. Bitcoin, the first decentralized cryptocurrency, was introduced in 2009. Since then, it has become the world's biggest and most popular decentralized currency. The currency has increased in value over time, reaching a market valuation of $786 billion in early 2022.
Though the terms "Bitcoin" and "Blockchain" have been bandied around recently, they are not interchangeable. Blockchain is an immutable record on the network that securely stores encrypted data transactions. Bitcoin runs as a currency on its blockchain system, which allows for the recording and storing of transactions.
Today, blockchain technology has found widespread acceptance, with over 16,000 cryptocurrencies developed. Even though bitcoin is the most important cryptocurrency globally, other blockchains host Etherium and other comparable technologies. The entire value of all cryptocurrencies is projected to be over $2 trillion.
Before you start trading cryptocurrencies, be sure you understand the hazards involved. Because cryptocurrencies are decentralized and vulnerable to market fluctuations, financial services provided by organizations such as Capital Exploits are much more beneficial. An example of this occurred a few months ago, when the American Federal Reserve adopted a hostile stance towards cryptocurrencies, anticipating a hike in interest rates, resulting in a negative run.
There is also the possibility that cryptocurrencies are regarded to be intrinsically hazardous since they are not attached to a central bank or sovereign, making them difficult to govern. This makes them appealing to finance-based criminal actors for use in illegal operations like as money laundering, circumventing control capitals, and purchasing banned narcotics.
Popularity of Cryptocurrencies
Over the last several years, cryptocurrency has gained in popularity due to greater investment and acceptance. Experts concur that this tendency is likely to continue in the coming years. Today, cryptocurrency usage has reached around 4% of the entire global population, or over 300 million individuals, with forecasts indicating that this trend will continue long into the future.
According to the Gartner Institute, by 2024, at least 20% of all big organizations will be adopting cryptocurrencies in different areas of their business model and financial institutions, ranging from collateral to value storage.
Stablecoins have increased in popularity to navigate the inherent volatility of cryptocurrencies. These cryptocurrency tokens have been linked to ordinary fiat currencies to increase their stability. This stability improves their transparency, making value transfers more efficient.
Cryptocurrencies and the Future
Gartner experts predicted in their study Predicts 2022: Prepare for Blockchain-Based Digital Disruption; that cryptocurrencies are projected to find widespread acceptance in retail over the next three to five years. Inflation seems to be threatening conventional investment vehicles, making cryptocurrency a viable hedge in the future years. However, Bitcoin has been highly volatile in recent years, swinging from an all-time high of $68,223 to half in a matter of months.
Despite the volatility, investors and banks have maintained their views on cryptocurrencies. The appeal is not just speculative; skilled investors are becoming more interested in decentralized finance (DeFi). The business has drawn investment from traditional institutions, which already control around 0.08 percent, with predictions estimating that hedge funds will hold 7% of cryptocurrencies in their portfolios.
While governments were initially wary of cryptocurrencies, in recent years, we have seen more countries starting to investigate methods to experiment with and incorporate them into central bank currencies. This is an interesting development since big banks control around 90% of global GDP. China, India, and the United States have all shown interest, indicating that the trend will likely continue.
Scams and Cryptocurrencies
Because cryptocurrencies are very new, there has been little to no regulation in this field. A lack of regulation has produced a climate conducive to fraud and exploitation by undesirable actors. Scams in cryptocurrency have gradually increased, reaching an all-time high of $14 billion in 2021, up from $7.8 billion the previous year.
According to Gartner experts, with more knowledge, criminal actions using cryptocurrency are likely to drop by 30% by 2022. The "rug pulls" are the most typical of these scams, in which individuals develop perfectly respectable items on the surface just to flee with the investor's money. Rogue governments such as North Korea have extracted around $400 million in digital assets via at least seven assaults on various cryptocurrency systems, including banks and centralized exchanges.
However, as the space has grown, illicit actions using cryptocurrencies have reached an all-time low. Despite a rise in criminal cryptocurrency usage in absolute terms, just 0.15 percent of transactions in 2021 were unlawful, down from 0.62 percent in 2020.
Due to the downsides and uncertainties of the crypto world, it is beneficial to have a dependable source of information that you can rely on to keep you up to speed on crypto news. Capital Exploits is one such organization, with skilled money managers and financial professionals scouring the crypto space for undiscovered chances. They provide reports and keep their clients up to speed on industry developments and how to best take advantage of them.
Read the full article here: https://energimine.com/is-cryptocurrency-the-future-of-money/
The post Is Cryptocurrency the Future of Money? appeared first on https://gqcentral.co.uk